mustard seed exporters-UKRAINE
Ukraine Mustard Seed Exporters
---
Tags :

Ukraine,mustard seed,exports,exporter company,exporters
---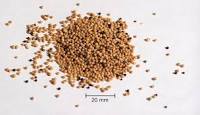 Ukraine's mustard seed exports to world amounted to US$21,5 million in 2015.
Mustard seed exports in Ukraine decreased by 10  in 2015 .The main 3 exports partner
are: Germany (63.9 percent),Poland (10.6percent) and Czech Republic(1.7 percent).
Ukraine's exports represent 9.82% of world exports, its ranking in world exports is 3.
---
Related Topics



»
Ukraine Maize Exporters
---
Yorumlar
-
Yorum Yaz
---